14 Kings Road, St Leonards on Sea,
01424 722154 – Brings you…
Tartiflette – £5.00
Our favourite winter warmer!
Tartiflette originates from the Alps. It is made with potato, reblochon cheese, garlic and onions and of course, lots of white wine.
We add locally grown parsnips to give it an English twist (and support British farmers).
Meat: Bacon Lardons (from Appleyard butchers).
Veggie: Artichoke hearts & Grilled aubergine.
Vegan: I am nut ok cheez & sundried tomatoes.
All are served with a side salad and dressing.
A little treat for afters!
Warm Fudge Brownie with Cream – £3.50
Vegan & Gluten Free Dark Fruit Flapjack – £3.50
Baked Dutch Apple Pie with Custard – £4.50
Hot Drinks
Cappuccino, Flat White, Latte – £2.50
Americano – £2.00
Tea – £1.00
Nutty Dream Tea – £2.00
Real Hot Chocolate – £3.00
Alt Milk – +30p
Please mention any allergies to our staff when ordering.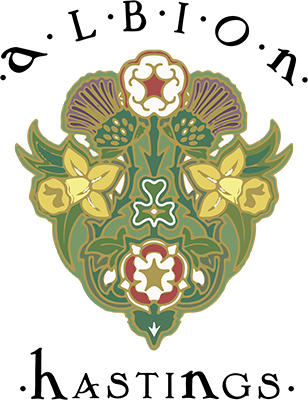 33 George Street, Old Town, Hastings,
01424 439156 – Brings you…
Draft
Camden Hells – £5.00 Pint – £2.50 Half Pint
Camden Pale – £5.00 Pint – £2.50 Half Pint
Camden Ink – £5.00 Pint – £2.50 Half Pint
Orchard Pig Cider – £5.00 Pint – £2.50 Half Pint
Bottles
GF Peroni – £3.50
Cornish Orchard Blush – £5.00
Crabbies – £5.00
Budvar Zero – £3.50
Wine
Sauvignon Blanc – £5.00 175ml – £7.00 250ml – £20.00 Bottle
Pinot Grigio – £5.00 175ml – £7.00 250ml – £20.00 Bottle
Provence Rose – £5.00 175ml – £7.00 250ml – £20.00 Bottle
Merlot – £5.00 175ml – £7.00 250ml – £20.00 Bottle
Malbec – £5.00 175ml – £7.00 250ml – £20.00 Bottle
Prosecco – £5.00 125ml – £25.00 Bottle
Spirits
Gin
Beefeater – £3.50 Single – £5.00 with mixer (Order a double, get the mixer free)
Malfy Limon – £4.50 Single – £6.00 with mixer
Malfy Orange – £4.50 Single – £6.00 with mixer
Malfy Pink Grapefruit – £4.50 Single – £6.00 with mixer
Hastings Gin – £4.50 Single – £6.00 with mixer
Vodka
Absolut – £3.50 Single – £5.00 with mixer (Order a double, get the mixer free)
Zubrowka – £4.50 Single – £6.00 with mixer
Rum
Havana Club – £3.50 Single – £5.00 with mixer (Order a double, get the mixer free)
Morgan Spiced – £3.50 Single – £5.00 with mixer (Order a double, get the mixer free)
Kracken – £3.50 Single – £5.00 with mixer (Order a double, get the mixer free)
Koko Kanu – £3.50 Single – £5.00 with mixer (Order a double, get the mixer free)
Southern Comfort – £3.50 Single – £5.00 with mixer (Order a double, get the mixer free)
Tequila
Olmecca Reposado – £3.50 Single
Olmecca Silver – £3.50 Single
Whisky/Bourbon/Brandy
Jack Daniels – £3.50 Single – £5.00 with mixer (Order a double, get the mixer free)
Famous Grouse – £3.50 Single – £5.00 with mixer (Order a double, get the mixer free)
Jameson's – £3.50 Single – £5.00 with mixer (Order a double, get the mixer free)
Martell – £3.50 Single – £5.00 with mixer (Order a double, get the mixer free)
Others
Baileys – £3.50 50ml
Disaronno – £3.50 Single – £5.00 with mixer (Order a double, get the mixer free)
Soft Drinks
Mixers and Soft Drinks
Ginger Ale – £1.50 Bottle
Tonic water – £1.50 Bottle
Slimline Tonic – £1.50 Bottle
Bitter Lemon – £1.50 Bottle
Ginger Beer – £1.50 Bottle
Soda – £1.00 Bottle
Coke – £3.00 Bottle
Diet Coke – £3.00 Bottle
Lemonade – £3.00 Bottle
Water
Spring water Still – £2.00 Bottle
Spring water Sparkling – £2.00 Bottle
Juices
Apple Juice – £2.00 Half Pint
Orange Juice – £2.00 Half Pint
Pineapple Juice – £2.00 Half Pint
Cranberry Juice – £2.00 Half Pint
Tomato Juice – £2.00 Bottle
Other
San Pellegrino: Blood Orange – £2.50 Can
San Pellegrino: Lemon – £3.50 Can